Moving long distances is common in the US. In fact, an average of 40
million people move home every year, with 80% of moves happening
between April and September (source). Hiring a long distance mover can
make your journey to a fresh start significantly quicker and easier. But
finding the best long distance moving services shouldn't be left to chance.
Keep reading to compare quotes from the best long distance moving
companies and learn more about how much it costs to hire professional
movers.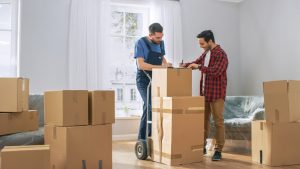 How to Find the Best Cross Country
Movers: Top 3 Things to Look For
Here are the top three things to look for when finding the best long distance
movers near you.
1. Registration
All legitimate long distance moving services must be registered with the
Federal Motor Carrier Safety Administration (FMCSA). This license enables
the company to legally transport possessions across state lines.
When you pay for services from a company without this license, you won't
be able to make a claim if something goes wrong or the service is not
delivered.
Check a company is licensed via the FMCSA moving company checker. You'll
need to know the moving company name and its US DOT number to perform
the checks.
2. Insurance
Alongside maintaining the right license, every long distance moving
company must be insured. Under federal motor carrier safety law, there are
two types of insurance protection you will be offered:
    Full value: The moving company is responsible for the "replacement
value of lost or damaged goods in your entire shipment". For
example, if a TV was damaged or lost during the move, the company
must pay the replacement value of the TV.
Released value: The moving company is responsible for "no more
than 60 cents per pound per article". For example, if the moving
company lost or damaged your TV weighing 50 lbs, you would receive
$30 ($0.60 x 50 lbs).
The best long distance moving companies must offer both types of
protection for you to choose from. Naturally, full-value protection costs
more than released value. In addition to the standard protections offered,
you can take out your own insurance from a third party.
3. Customer Reviews
Customer reviews are one of the most important factors to consider when
deciding who the best long distance movers are for you. Use caution when
reading reviews posted on the company website, as these could be solicited.
Instead, always check Yelp or Google reviews to read unsolicited reviews
about services the company has delivered to real people.
As additional research, you can also review previous official complaints
made against the company. Contact your local Better Business Bureau and
Consumer Protection Agency to learn more about the complaints made
against a long distance moving company near you.
Related article: 7 SHOCKING Moving Company Scams & How to Spot Them
How Much Money Is It to Move Across
the Country?
The cost of moving cross country depends on various factors, including how
far you need to travel, what possessions you have, and the time of year it is.
It will also depend on whether you want the "basic" package or if you
upgrade to various extras, like packing services or appliance reconnection in
your new home. The average cost of moving cross country is between
$2,000-$9,000 when you pay for a full-service moving company.
The table below summarises how much it costs to move cross country.
Enter your information
Almost done!
Enter your information to view your quote.
Your information is safe with us. By using this service, you agree to receive email communications solely regarding your relocation process