What is your first association when you hear the word 'Arizona'? Most likely, the first thing that will pop up in your imagination would be a desert. An endless desert of copper-red color, brushed by the hot and sandy winds, which are dancing with the tumbleweed, and, of course, the Grand Canyon.
Arizona is definitely an amazing attraction for travelers and photography geeks, but is it a place, where you could move with your young family for good? Well, if you are a resident of a huge megapolis, like New York or Los Angeles, who has grown weary of the unceasing noises of the city, enormous crowds of irritated people who are constantly rushing somewhere, and abnormally high prices on everything, from utilities to entertainment, then you should definitely consider moving to a place like Arizona. If you want to change the scenery from the stifling concrete jungles and traffic jams to the vast spaces of glorious nature, then Arizona would be the right choice. If you are not really fond of cold gloomy winters, and would like to feel the sun rays on your skin all year round, Arizona will be a perfect choice for you.
Relocation is a life-changing decision which should be made only after you have thoughtfully weighted up the pros and cons and drew up the elaborate plans for the future. Once you have done that, there is one more important decision you have to make, and it is to choose a professional long distance moving company that will safely transport all your belongings to the Copper State.
Thanks to longdistancemoving.com, you will be able to choose from the variety of movers who operate across the United States of America. Regardless of where you live in the States, even if it is the farthest point on the East coast, your property will be safely and diligently transported to Arizona, or any other place in the country, by reliable movers who place their bids on longdistancemoving.com. Fill the form on the website, and see how much you can save on relocation.
Why Move to Arizona
There are several reasons why you would change the place of your current residence and move to some other place like, in our case, Arizona.
To change the surrounding environment.
To find a place with a more affordable cost of living, more suitable for your current financial situation.
To find a new job.
To live in a state with more favorable climatic conditions.
Certainly, it is not the complete reasons why people decide to relocate, but if it is one of the mentioned four, then Arizona is the place where you will definitely find what you are looking for.
Arizona: One of the best states to relocate in US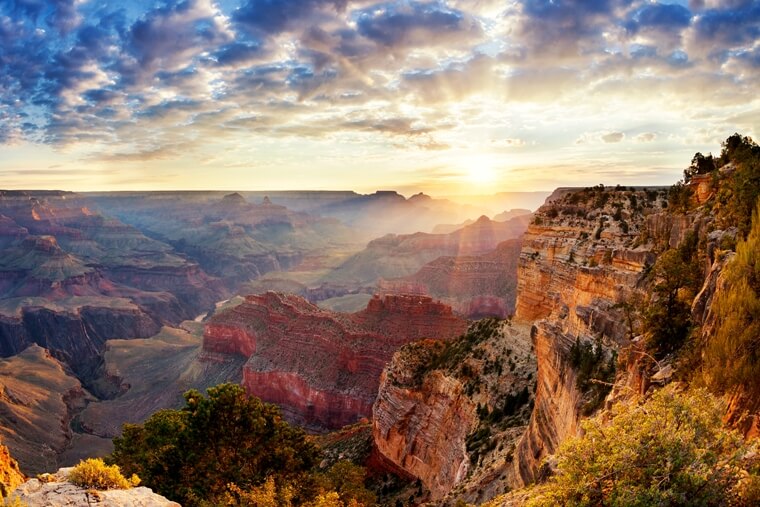 Unique nature is perhaps the most characteristic feature of Arizona. Certainly, all Americans, as well as people from other countries who have at least a slightest idea about this country, associate Arizona with the Grand Canyon. In 1979, UNESCO included the Grand Canyon into the World Heritage List, which means that it was literally granted a status of one of the world's wonders. However, this is not the only place of attraction in Arizona. If you drive only 30 miles away from the Grand Canyon, you will find another famous site called Barringer Crater, also known as the Arizona Meteor Crater which appeared more than 50 thousand years ago after a space meteor hit that area. It could be called a birthplace of American astronautics. There are also the Painted Desert, the Rainbow Forest, which is a part of the magnificent Petrified Forest National Park, as well as a beautiful Lake Powell. So, if you are an aspiring photographer or an avid Instagrammer, then Arizona will be a source of endless photo content for you. And even if you don't know the first thing about the art of photography, you would still enjoy driving through the picturesque desert which is reminiscent of the scenes from the old movies about the Wild West. Just make sure that the air conditioning system in your car works properly.
Good economy and better prices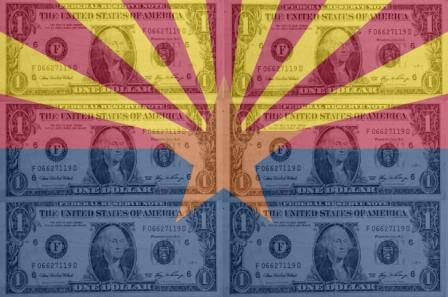 Arizona's economy was once wittily described as "five C's: which stands for "copper, climate, cattle, cotton, and citrus". So, if your career happens to be somehow related to mining or tourism, Arizona will be a perfect place for professional development. It may sound unbelievable, but Arizona's gross state product is actually larger than the entire national economy of such countries as Ireland and New Zealand. However, it doesn't mean that the cost of living in this southern state is unbearable. In fact, it is much lower compared to Chicago, Los Angeles and, especially New York. It is more affordable to live in Arizona than in the neighboring states of Utah and Colorado, which, along with New Mexico, form the famous Four Corners.
According to statistics provided by Zillow, the median price for all properties (from two to four bedroom homes) is $234.000 which is $91.000 cheaper than the median price in Colorado ($325.000).
You will also be pleasantly surprised with rent prices in Arizona. For instance, if you are willing to settle into a studio apartment, it will cost you $725 per month which is $346 less than the average price across the United States. The cost of a two-bedroom apartment is roughly the same as the national average.
All car owners will be pleasantly surprised with gas prices in Arizona as it is generally lower than the average prices across the country. For example, the price of a gallon in Phoenix is $1.976 while the residents of Tucson pay even less – $1.866.
And on to the last part which is the Americans' favorite – taxes. Arizonians pay from 2.59% to 4.54% of income tax which is lower than the U.S. average. Arizona can also boast really attractive property tax rates, which amount to just 0.84%, and almost the lowest gas taxes in the country ($0.19/gallon of gasoline and $0.27/gallon of diesel). Arizona may also become the first state that will allow paying taxes in cryptocurrencies, which is a progressive step from the authorities of the state.
Best Places to Relocate in Arizona
Now that we have described the main benefits of living in Arizona, let's take a look at the best places in the Grand Canyon State where you can lay down your roots.
Phoenix, AZ
This city is also known as the Valley of the Sun because it has more sunshine throughout the year than any other place in the United States. So, if you are thinking about equipping your rented or newly bought house with solar batteries, you can surely forget about electricity bills for good. Phoenix also has a growing job market and reasonable cost of living. If you want to experience all pleasures from living in the big city (working in a business district, eating at the exquisite restaurants and visiting big sporting event) then you should definitely consider relocating to Phoenix.
Tucson, AZ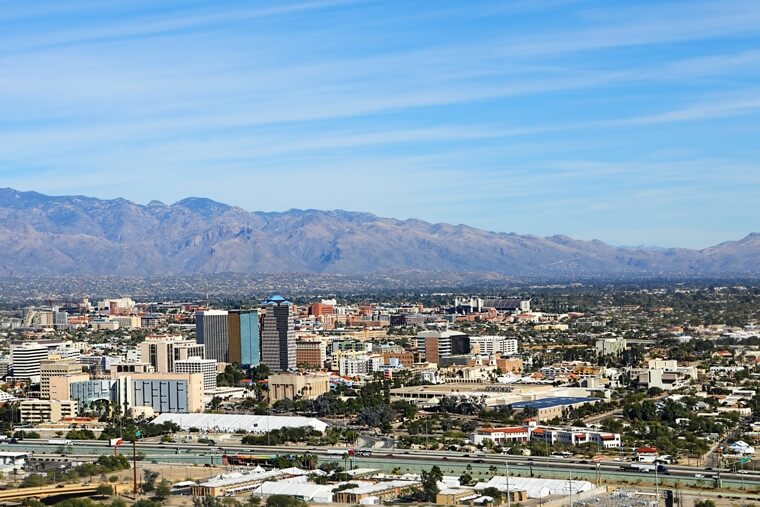 Tucson is the second biggest city in Arizona which is located approximately 100 miles south of Phoenix and 60 miles from the Mexican border. It will be an ideal place of residence for those who work in the fields of education or engineering. The University of Arizona is the largest educational institution in the state, and it is the second largest place of employment for the citizens of this city. There is also a technological cluster called the Tucson Tech Corridor which is comprised of more than 150 companies and factories that mostly deal with aeronautics. However, Tucson attracts new residents not only with its good employment prospects but also with marvelous natural sights, such as Mount Lemmon, where you can go skiing in the winter, and Saguaro Park with its great hiking trails. Tucson also has superb golf courses which draw players from all over the United States.
Gilbert, AZ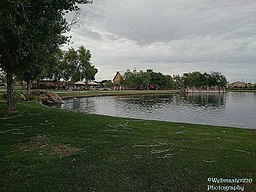 Gilbert will be most suitable for families who decided to relocate to Arizona because it has a family-oriented community and the
level of safety in this city is one of the highest
throughout the entire South West. It is very close to Phoenix which means that you can combine the benefits of working in the business heart of the state and living in the quiet and safe neighborhood.
Summary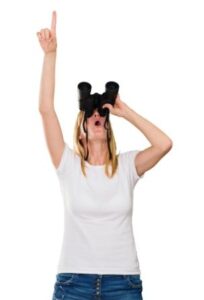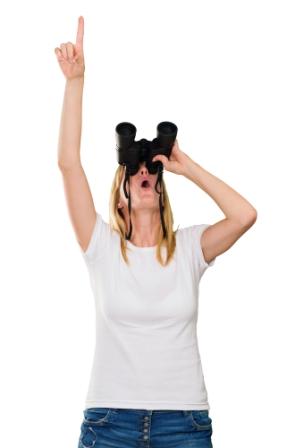 Relocating to another city or even state is always hard. It is often very time consuming and associated with plenty of stress. However, it becomes easier if you know that you are moving to a place where your life will be happier and when you get help from the best professionals in the moving industry. Arizona may become a place where you will start a new happy life, and longdistancemoving.com will help you get there. Fill in the form above to receive the quotes from the most reputable moving companies in the United States.