Moving to West Virginia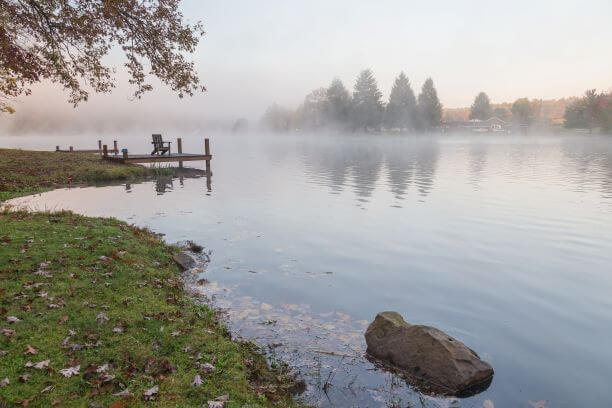 While all kinds of stats show that West Virginia is not the best place to relocate to, it still attracts newcomers, searching for affordable cost of living, beautiful riverfront and mountain scenes, a wide choice of outdoor activities, and a hiding place from hustle and bustle of overpopulated areas. Well, the state has it all, though suffering from certain drug issues, economic decline, mining-related ecological problems, and lack of quality healthcare and education systems. However, there are some good signs, promising better tomorrow for the state, and, maybe, relocation to West Virginia is your chance to gain momentum. Nevertheless, prior to packing bags, you need to factor in some other aspects.
Taxes in West Virginia
Having the 2nd lowest income per capita, the Mountain State is not among those with the lowest taxes, sitting nicely in the middle of charts. The state collects income, property and sales taxes, though the property tax ranks among the lowest nationwide.
The income tax is progressive and based on federal adjusted gross income, ranging from 3% to 6.5% and dependent on taxpayer's income and filing status (by the way, the top corporate income tax rate is also 6.5%). The highest rate is applicable to those individuals, who earn over $60,000 (or over $30,000 for married taxpayers filing separately).
The state's sales and use tax is 6%, covering almost all products, but there are also municipal rates, making the combined rate vary. However, the highest local tax rate is 1%, which puts West Virginia in between other states.
The amount of money paid for property depends on its class, while the property tax is composed of 4 levy rates collected by different authorities. Actually, this means that you would pay 0.5-0.6% annually or something about $600 for a $100,000 house, which is pretty good.
Insurance in West Virginia
Driving in West Virginia can be more pleasant for those relocating from Florida, Michigan, or Louisiana. That's because the average car insurance rates in the Mountain State are much cheaper compared to those areas, though a little bit more expensive than the national average ($1,408 vs. $1,365). The state ranks 20th in the country in car insurance affordability, which is not bad either.
The same goes for home insurance – with the national average of $1,228 for a $200,000 residential place with $1,000 deductible and $100,000 liability coverage, a homeowner in WV will pay extra $60, but that's no big deal compared with Oklahoma, Alabama or Mississippi. Again, WV ranks among Top 20 states with the most expensive home insurance, which can be balanced by the median home cost of about $97,000, which is one of the lowest in the country.
Best Places to Relocate in West Virginia
If you chose to relocate to WV, you will certainly want to get the most of its historic background, outdoor adventures, exciting festivals, beautiful nature and hip locations. So, there is a list of both small towns and larger cities, each having certain advantages over its rivals.
Charleston, WV
West Virginia's capital city is a rather small place with the population of about 50,000 residents, thus boasting this special homey feel and laid back lifestyle missed by most townies. Unlike other regional centers, Charleston allows for a fast and easy ride to whichever destination you choose due to its low traffic coupled with good access to both interstate and state highways. Public Yeager Airport is 4 miles away, offering scheduled commercial and air taxi services, and an Amtrak station is available in the city, providing tri-weekly service.
In addition to get-away from the traffic, Charleston comes up with beautiful riverfront views and its share of old architecture in a variety of styles. In spite of certain ill-fated crime issues in the state, many city's neighborhoods and suburbs are peaceful and safe, also featuring up and coming housing developments. The residents can enjoy a decent K-12 public school system, a complex of hospitals throughout the city, a number of museums and parks with swimming-pools, tennis courts, football fields and picnic areas. Half a dozen universities and colleges either have their campuses right in the city or are just an hour drive from it. Add this to the low cost of living and good job opportunities, and you'll love to find a place in this compact and friendly community.
Morgantown, WV
According to Niche.com, Morgantown is definitely one of the best cities to live in West Virginia, since it leads the polls based on multiple parameters. It's a nice college town with the population of about 30,000 and strong youth prevalence, which is no surprise with regard to the fact that it is home to West Virginia University, one of the Top 100 colleges in the South.
Naturally, Morgantown grants access to high-quality education from elementary to high public schools, including a couple of blue-ribbon educational institutions. WVU is the largest healthcare provider in the state, having a number of the best-in-the-state hospitals and clinics right in the town, covering a cancer center, eye institute and heart surgery.
Unlike the most part of West Virginia, Morgantown is one of few places with steady job growth and population increase driven by both the University and city's authorities. There are plenty of local businesses, including shops, restaurants and bars, while recreational opportunities are represented by several museums, biking and walking trails, arts venues, sports facilities, parks and an arboretum.
Fayetteville, WV
Fayetteville is a tiny, yet green and picturesque town, which is home to approximately 3,000 inhabitants. It is famous for its New River Gorge Bridge, being one of the longest single-span arch bridges in the world. It is also a point of attraction for kayakers, hikers, hunters, game fishermen, bird watchers, rock climbers, mountain bikers, zip liners and trail runners from all over the country and the world. Due to vast popularity of the New River Gorge National River park service, tourism fuels local economy following the decline of WV's coal industry.
While the residents can enjoy the gorgeous landscape and be proud of living in one of the nicest river town, the friendly community can be praised for a low crime rate, though against a backdrop of scarce nightlife and limited shopping/dining options. On the other hand, the town features more than affordable cost of living, with the median home value of about $119,000. So, if you are looking for a simple lifestyle in a small town close to beautiful nature, you should give Fayetteville a try.
Elkins, WV
Sitting right on the edge of the Monongahela National Forest, Elkins is a small riverside town against the background of beautiful mountain scenery. It is home to about 7,000 residents and also to Davis and Elkins College, a liberal arts institution, occupying some of the most prominent historic mansions in the area. Naturally, there are a couple of museums and arts centers, offering workshops and classes, as well as holding concerts, dances and festivals to add even more activities to a nice set of outdoor recreation opportunities. Bike and walking trails, picnic sites, horseshoe pits, a skateboarding area, courts and playgrounds are available in local parks, while climbing, boating, hiking, swimming or skiing are just within reach.
Since few small towns can offer tons of activities comparable to those of Elkins, it's a nice option for families and retirees, searching for a compact and friendly community to join to. From Pre-K to post-baccalaureate degrees, the town has a decent education system, and grants access to Davis Medical Center, Cancer Care Center and other facilities operated by Davis Healthcare System.
Huntington, WV
Though located a little bit farther from the mountains, Huntington has other advantages than scenic landscapes, since it is one of the largest towns and an important transport hub in the state. Accommodating approximately 48,000 inhabitants, the town shows some positive changes in the economy, shifting from heavy industry to health care, retail, finance and other sectors. With major employers like St. Mary's Medical Center (which is one of the best in the state), Marshall University, CSX Huntington or the U.S. Corps of Engineers, Huntington boasts slow, but promising growth, which is not that common in WV.
While local authorities do their best to attract labor force and revitalize the downtown area, the residents can enjoy affordable cost of living and a good choice of entertainment, including restaurants, festivals, parks, museums, sports and more outdoor activities on the Ohio River, nearby lakes and hills. Despite the crime issues associated with drugs, many of city neighborhoods are safe and friendly to consider for relocation.
Fairmont, WV
Fairmont is a lovely bedroom community in the proximity of Morgantown, marked out for its nice combination of suburban lifestyle and fast access to wider opportunities of this well-developed college town. It sits close to interstate and local highways, and it is less than half an hour drive from Morgantown, while one-and-a-half times cheaper to live. This helped Fairmont get into the list of the best WV's towns for young families along with its relatively low violent crime rate and good education system.
Having over 18,000 residents, the town houses Fairmont State University, Pierpont Community and Technical College, a range of historic buildings, a dozen parks with playgrounds, courts and picnic shelters, a library and historic museum. Nearby, there is also a reconstructed historic fort and a state park with multiple waterfalls and endless opportunities for mounting biking, kayaking, hiking or fishing. Add local authority's revitalizing attempts aimed at both housing and downtown scene, and you may find Fairmont worth trying.
Moving to WV in 2022
Sure, this list cannot meet all possible requirements and preferences you may have, but at least it's the first step to your live-changing move. When ready to relocate, start with finding a reliable service provider through LongDistanceMoving.com to make your change of address smooth and trouble-free.
Enter your information
Almost done!
Enter your information to view your quote.
Your information is safe with us. By using this service, you agree to receive email communications solely regarding your relocation process